Testimonials
We love all our clients, but we have to give a big "Thank You" to those who took the time to write these testimonials for us.
Marketopia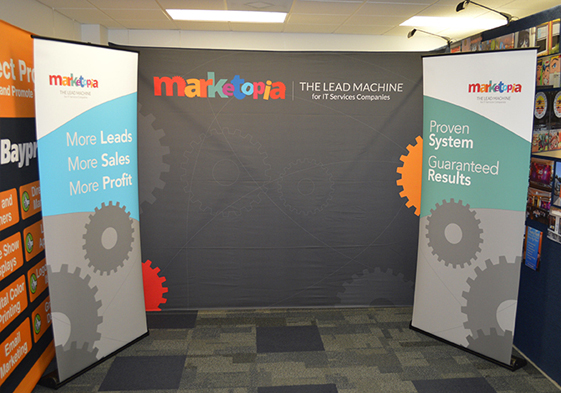 The whole process was a breeze! Al was extremely helpful, always quick to respond to questions, and never hesitated to quote us on additional items when we needed assistance. We are very happy with the service from Bayprint and especially with our new display products.
Lauren Bryant, May 2015
TASC
Everything was completed to perfection for the National TASC Conference in St Pete...May 4-6, 2015. The entire experience from email communications prior to the conference to the services delivered...some on emergency needs for more product...were handled with the utmost professionalism.
National TASC is looking to make St. Pete our conference location destination for every other year. We are CERTAIN to be contacting Bayprint for all our needs.
Bailey Davis, May 2015
Focus School Software
Bayprint has the best customer service and completes projects so quickly! Even our last minute requests are ready for pick up with such excellent speed and quality :)
Danika Bridgeman, May 2015
Fantastic Sam's
Regardless of how late I submit the files, Laura always makes sure my job looks perfect, is delivered as promised and never, ever, ever, ever complains about my panic and habitual late submissions. She always has my back, makes my life easier, and makes me look professional and timely in the office. I have never had better customer service.
Joanna Crandell, December 2014
Suncoasters of St. Petersburg
Quick and reliable service. We are always pleased with the product. Thank you for always being quick to respond to requests as well as your fast production time.
Jessica Higgins, October 2014
Carillon Sports and Family Medicine
Very reliable and dependable service! I feel like Bayprint is a true corporate partner and feels personally invested in the success of our business. Thank you!
Nicole Brunson, April 2014
Become A Happy Bayprint Client
When dependability matters, call on Bayprint. Call us at 727-823-1965 to get started with your next project or Contact Us here.